Why users love Smart Guess - how is it better?
The first question many ask when learning about Smart Guess is this: How is it better?
To answer this question, we must first step back and answer why we brought yet another story estimation tool to an already crowded market. First, we felt the pain firsthand. Second, when listening to users we confirmed something was out of place. So we set out to understand users and explore new ways of solving the problem. That is why Smart Guess's approach is purposefully different, with the ultimate goal to:
simplify relative estimates in Jira and dispel estimation misconceptions teams face so that our customers deliver impactful solutions by running effective refinement and planning meetings.
Let's cover four reasons why teams have found Smart Guess better than other solutions on the market.
1. Lightweight & intuitive One-Click Planning Poker
Smart Guess is designed from the ground up to simplify the estimation process by enabling One-Click Planning Poker within the Jira Backlog. This approach is unique as conventional tools build their solution in a separate view, where key information and actions to update the story are further away.
Key points
Intuitive. Teams starting with Smart Guess get quickly up to speed, evidenced by not one support request being reported during the last twelve months - even with a record number of active users.
Lightweight. 'Smart Guess allows you to do the entire estimation process right from the issue. This makes the entire estimation process lightweight & intuitive', customer review.
One-click. 'I love ❤️ that we can point from the issue card itself', customer review.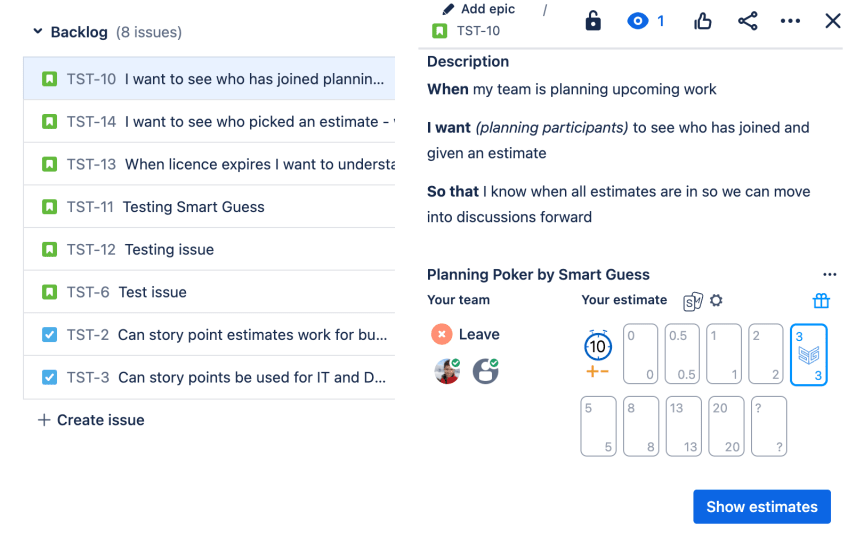 2. Stop wasting time on tasks of no value
Traditional planning poker tools require a setup for every refinement session, eating into valuable time that could be spent on tasks of substance. In contrast, Smart Guess requires No-setup, as teams initiate Planning Poker refinement discussions directly from the Jira backlog.
Key points:
No setup. Teams start refinement without repetitive setup, saving time and increasing productivity.
Saves money. Learn how 1 minute saved during a refinement pays back $14.000 / year for a 200-member development organization. Smart Guess saves so much more than one minute and does it fifty-two weeks a year, every year.
Efficient. 'Smart Guess is not only the most efficient but the best app we've used.', customer review.
3. Covering all your estimation needs
Unlike many Planning poker tools that typically offer only one estimation method, Smart Guess covers all your estimation needs. It incorporates Planning Poker, asynchronous Planning Poker, and Bucket Estimation.
Key points:
Async. Planning Poker. 'The most efficient app for asynchronous Planning Poker', customer review.
Planning Poker. 'After trying many planning estimation tools in Jira, we landed on Smart Guess.', customer review
Bucket Estimates. Relative estimates, at their best. Simply ask, is the story bigger or smaller than 3, 5, or 8? With Smart Guess you simply drag and drop, and that's it.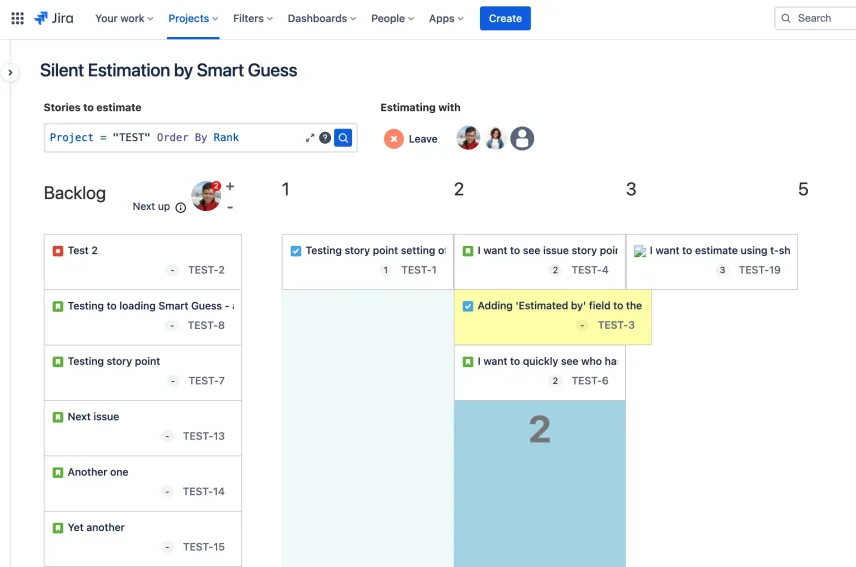 4. Security and Reliability
Unlike most other providers who host their own infrastructure. Smart Guess is built on Atlassian Forge, the latest development platform created to meet the highest Security and Reliability demands customers set. The Forge platform provides built-in security and Atlassian-hosted infrastructure. So if you trust Atlassian Jira Cloud with tools and data critical for your operation, you already trust the platform Smart Guess is using. Peace of mind for you.
Key points:
Hosted by Atlassian. Smart Guess customer data is hosted and operated by Atlassian.
Built for the future. Atlassian built the Forge platform for the future:
"A large reason why we are building Forge is to address security, trust, and compliance requirements in our customer's journey to the cloud. ", Daniel Winter-Wijntjes, Atlassian Engineering Manager.
In essence, Smart Guess isn't just another story point estimation tool; it's a solution built with user satisfaction and convenience. The frustration users reported with traditional tools inspired us at Smart Guess.
Try it out and tell us what you think because we love connecting with users to understand how to improve further.