Are you moving to Jira Cloud and looking for the perfect alternative to Scrum Poker for Jira?
Finding the right tool takes time and effort. For teams who have relied on Scrum Poker for Jira Server, the natural next step is Smart Guess for Jira Cloud. Why? A recent customer identified Smart Guess as the perfect alternative to Scrum Poker for Jira when moving from Jira Server to Jira Cloud. Here are the reasons why.
Intuitive, out-of-the-way, get-job-done attitude
A significant pain point of traditional planning poker apps for Jira is the mandatory step to create a session whenever you want to estimate a story. Yes, even when estimating a single story. Teams crave easier ways to give estimates rather than the extra steps to follow mindlessly. At Smart Guess we truly understand this. A customer moving from Scrum Poker for Jira pointed out:
"We were looking for a simple tool to score stories without creating a session every time. With Smart Guess, you can score stories directly from the Jira story itself, eliminating the need to create a session and prepare a story list for every refinement session."
One-click estimate - without any setup
What is more. Smart Guess is available from the Jira Issue Panel below the issue description. In other words, Smart Guess is available from the Jira Backlog, Issue Search, or the Jira Issue view. When users have opened Smart Guess for the first time, giving an estimate is always One click away.
When Smart Guess is not in use, users close the app, so it takes no space when not in use.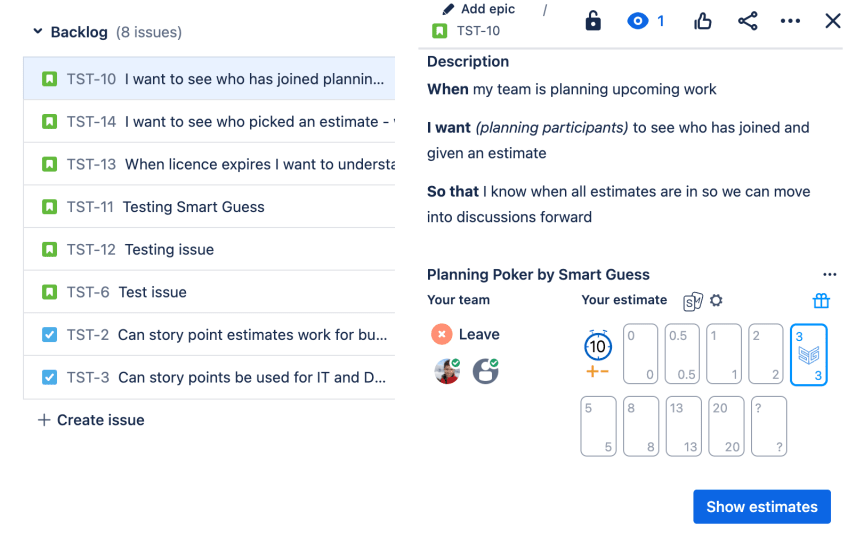 Covering all your estimation needs
Unlike many Planning poker tools that typically offer only one estimation method, Smart Guess covers all your estimation needs. It incorporates Planning Poker, asynchronous Planning Poker, and Bucket Estimation.
Async. Planning Poker. 'The most efficient app for asynchronous Planning Poker', a customer review.
Planning Poker. 'After trying many planning estimation tools in Jira, we landed on Smart Guess.', a customer review.
Bucket Estimates. Relative estimates, at their best. Ask, is the story bigger or smaller than 3, 5, or 8? With Smart Guess, you simply drag and drop, and that's it.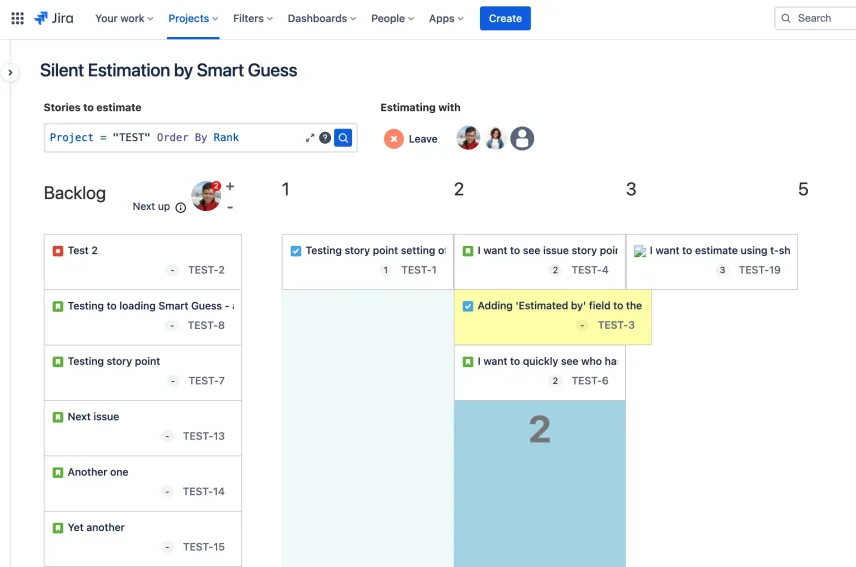 Comparing multiple tools, only one stands out
It's one thing to claim effectiveness and another to prove it. A customer moving to Smart Guess from Scrum Poker for Jira candidly shared,
"We trialed Smart Guess and many other alternatives across several refinement sessions until we found one we were happy with."
It speaks volumes about Smart Guess, which emerged as the preferred choice after multiple trials - including the traditional tools with many thousand installs.
Security and Reliability
Unlike most other providers who host their infrastructure, Smart Guess is built on Atlassian Forge. Forge is the latest development platform created to meet customers' highest Security and Reliability demands. The Forge platform provides built-in security and Atlassian-hosted infrastructure. So, if you trust Atlassian Jira Cloud with tools and data critical for your operation, you already trust the platform Smart Guess is using—peace of mind for you.
In summary
Smart Guess offers a seamless, straightforward, secure, and reliable solution for teams looking to transition from Scrum Poker for Jira Server. It ensures that the primary focus remains on refining and scoring stories without the unnecessary complexities traditional tools mandate.